The Brief: choose a business problem and solve it with a multimedia campaign
Alfred Tea Room
is a small tea room on Melrose Avenue known among female millennials for its Instagram-worthy pink interior and paper cups.  Our campaign,  #ActiviTEA targeted local, health-conscious 18-30 year-old males and females in order to expand and diversify Alfred's market, increasing sales.  Below, I've included the pieces I helped write and design, but you can find my whole partner presentation
here
.
​​​​​​​
60 second Radio Spot


West Hollywood is known for its flamboyant gay male population and this radio spot targets them specifically.
Gong sounds
YOGA INSTRUCTOR: Now class, breathe in and take a sip of that silver leaf green tea. Do you feel that boiling health clearing your pores and boosting your metabolism?  I bet you do!  Now think of your happy place, are you surrounded by pink walls? Does it smell like tea?  Look at that form! Dave, I see you killing that sipping and selfie game! Chaturanga! BAM! That energy is racing through your veins, you are more focused, you are becoming enlightened. Your body is thanking you as much as your Instagram is. Alfred Tea Room has over 40 refreshing flavors of tea, which is 40 ways to experience bliss.  Palms up and feel the immunity radiating from your fingertips! You're glowing, Dave!
DAVE to CHRISTOF: Dude, I haven't felt this good in my life!  I'm going to start every morning off like this.
CHRISTOF: Well, Dave it's your lucky day! Your best self is as easy as one-two-tea because Alfred Tea Room is just two blocks away!  Feed your body and your Instagram at 705 N Alfred St.  
YOGA INSTRUCTOR: Shhhh! Not now, Christof. Now class, take a breath and savasana. 

Gong sounds

30 second TV spot
YouTuber Ali Collier stars in this sassy tv spot that satirizes the stereotype of West Hollywood millennials.  It acknowledges that Alfred Tea Room is known for its Instagrammable decor and cups, but the last phrase reinforces our overall campaign of activiTEA and having a healthy lifestyle.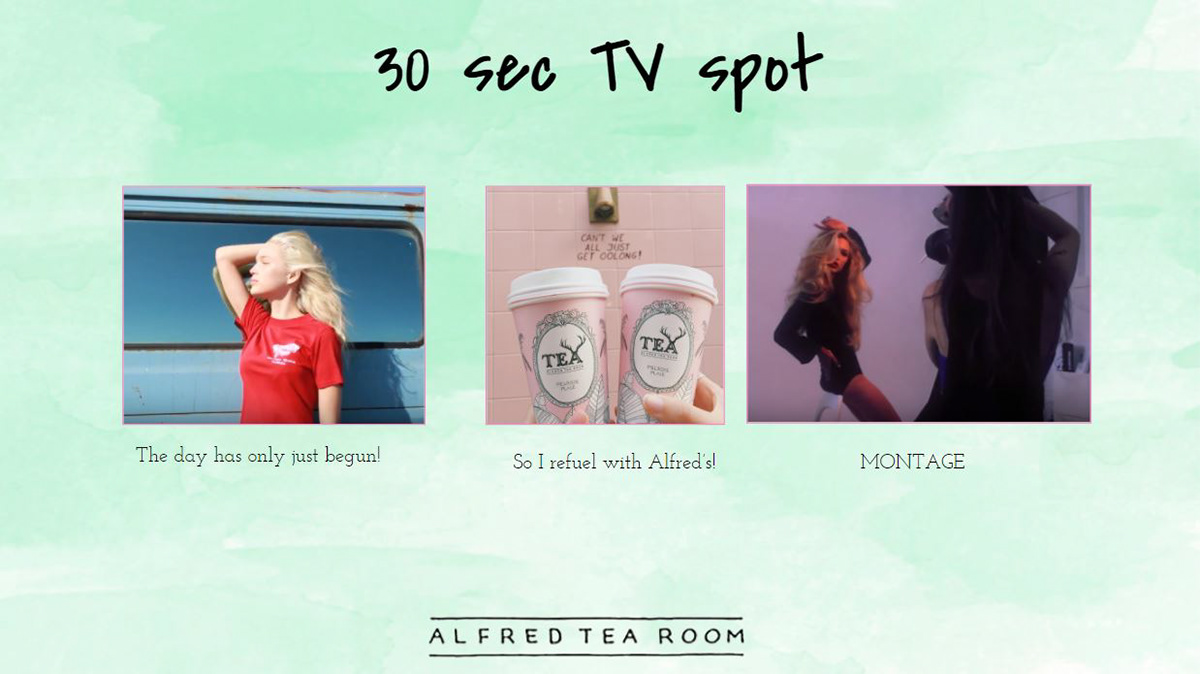 Billboard
This billboard would be made of transparent material so that you could see the sky behind it.  The idea is that it looks like someone is making a toast and raising the cup of tea to the sky.  The copy works with the campaign because tea is healthier than alcohol and it fits with our theme of having healthy lifestyle.

Banner Ad Quiz
This would be a banner ad on sites like Facebook where customers will be re-targeted.  It will be a Buzzfeed-type quiz and members of the target market will be asked several questions about their lifestyle and habits to determine which tea they should try at Alfred Tea Room.  They will be able to share their results with their friends on social media.

Mobile Rewards App
This ActiviTEA Rewards app would work with the iPhone Health app to track how much walking/running people do per day.  There would be a points system that works with how far you have walked/ran.  For example, 10,000 steps would equal one point, and after you get 30 points, you get a free drink at Alfred Tea Room.  This app could also connect to your Facebook account to share your route and how many points you have to your Facebook friends.
Yoga Mats
Alfred Activitea yoga mats will be for given to local yoga studios and gyms in West Hollywood.  The dot in the upper left-hand corner is a place to put their cup of tea.

Tea Fountain
Install pink tea fountains along streets near Alfred Tea Room, outside local gyms and yoga studios, and public parks so people can try Alfred Tea.
Alfred 5k
Alfred Tea Room would sponsor a 5k in West Hollywood because it promotes a healthy lifestyle and is a reasonable distance for the experienced runners and recreational walkers.  Facts about tea and sassy phrases will be painted on the pavement of the course and Alfred tea and other products will be at the finish line.